Spa Treatments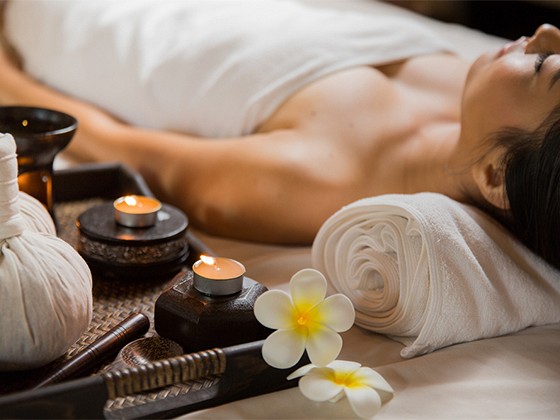 Body Wrap : Massage +Body Mask+Aromatic Flower Bath: A relaxing treatment with natural ingredients. The exotic blend is massaged into the skin which is then wrapped in a polythene cling film, to further increase absorption of the oils. The components of the blend will pass on their individual benefits to your skin, including ; moisturization, detox, firming and tightening and help blood circulation. The nicest thing about a body wrap is how it feels: absolutely wonderful!

Sun Burn Soother Pure aloe vera gel is renowned for its hydrating and soothing properties, making it ideal for skin irritated and weathered by sunburn. The gel cools the skin, while at the same time generating new cell growth.

Body And Facial Scrub : Body Scrub + Massage + Aromatic Flower Bath: A refreshing natural scrub and massage to soften and rejuvenate the skin.

Boreh Or Mandi Lulur This treatment begins with a ritual foot scrub and transitions into an overall body scrub. Organic cloves and rice ground by hand are used for exfoliation and to increase blood circulation. Sandalwood, ginger, cinnamon, turmeric and nutmeg are part of the mix and add warmth while stimulating the body's resistance. This makes the Balinese boreh treatment excellent for aching muscles, fever, headaches and arthritis. It is followed by a refreshing yoghurt moisturizer which restores the skin's natural PH balance.

Herbal Therapy Facial Pure botanical skin care products are used in combination with a gentle massage of the face, neck and shoulders. This treatment is guaranteed to balance, relax and restore a healthy glow to your skin.

Manicure – Pedicure With Nail Painting Full grooming combined with an aromatic flower soak and massage to beautify and pamper your hands and feet.